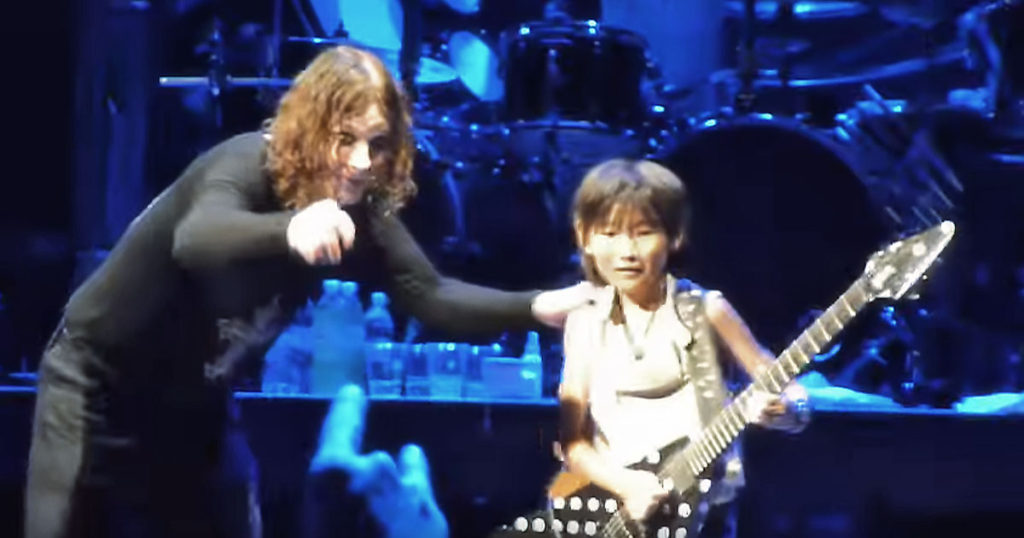 Ozzy Osbourne Performs Crazy Train Together With 9-Year-Old Guitarist Yuto Miyazawa
The young guitar sensation Yuto Miyazawa was born early 2000 in Tokyo, Japan. It didn't take long before he had mastered his instrument better than most adults.
The Guinness Book of World Records referred to him as "The Youngest Professional Guitarist" when he was just 8 years old.
2009 he appears on The Ellen DeGeneres Show where he gets to play "Crazy Train" by Ozzy Osbourne in front of her audience.
Later same year, he's invited on stage at BlizzCon by The Prince Of Darkness himself, Ozzy Osbourne, to perform "Crazy Train" together with the band. They repeat the success in 2010 at at a sold out Ozzfest.
The New York Times features him shortly after and he makes the headlines as "The Heavy Metal Kid". 
One of Yuto's dreams is to visit the UK where several of his heroes are from. Besides Ozzy, he mentions artists like Randy Rhoads, Ritchie Blackmore, Jimmy Page and Eric Clapton.
He joins The Robotix in 2012. A young rock band that soon makes a big splash on the music scene.
His  manager, Steve Bernstein, once said; "It's like he's 30 when he plays, and 10 when he's not". Besides managing Yuto, he's also responsible for not keeping the young guitarist up past his bedtime while on tour. Touring, however, is something he only does during school holidays.
Another important figure in Yuto's life is his father, Tsuneo Miyazawa. When he's not working at the bank, he often follows his son around to the various events. Mr Miyazawa keeps in the background where he's often mistaken for an unusually clean-cut roadie.
Yuto talks about his father, with a smile; "My dad used to be better than me at guitar, but now he's given up."
Ozzy and Yuto live.
https://www.youtube.com/watch?v=k1lG1y0R6sU
Related links:
Yuto Miyazawa on Twitter
Ozzy Osbourne